https://www.theage.com.au/culture/music/weather-gods-smile-on-festival-s-ambitious-opening-weekend-20221017-p5bqem.html
American drummer Pheeroan akLaff led a fearless quintet through a dynamic and dramatically intense set, with vocalist Sunny Kim adding precise, vibrato-laden vocals that lent the concert a ritualistic feel. Clearly guided by intuition, akLaff responded to his virtuosic bandmates (Kim, Mike Nock, Peter Farrar and Helen Svoboda) with a maelstrom of visceral thrusts and thunderous rolls, riding the kinetic currents with evident glee.

Melbourne International Jazz Festival  October 14 – 16
After two years of cancelled or severely curtailed programs, the Melbourne International Jazz Festival burst into life over the weekend with an impressively diverse array of events in sold-out venues.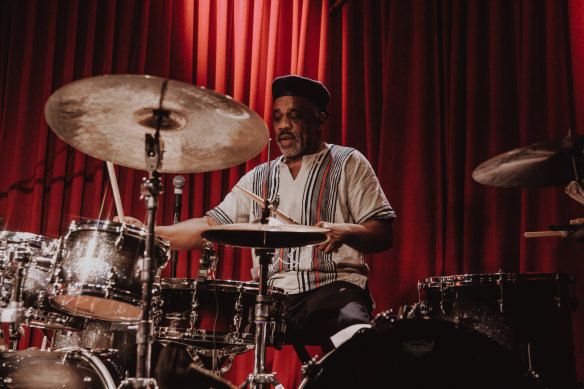 Pheeroan akLaff at Melbourne International Jazz Festival.CREDIT:DUNCOGRAPHIC