Pheeroan akLaff believes that the arts are a way to give thanks and to work for change. He is a musician who has kept New York vibrant with live music for over thirty years. His personal style of drumming with adventuresome composers began as a young artist touring countries of Africa Asia and Europe. His associations with Wadada Leo Smith, Oliver Lake, Anthony Davis, Henry Threadgill, Sonny Sharrock, and eventually Yamashita Yosuke, Liu Sola Henry Brant, and Andrew Hill presented him with opportunities to perform and record a volume of rare work. 
 
FRIENDS AND STUDENTS OF JAPAN
フェローン・アクラフとは30年の付き合いだが、音楽性、人柄、ユーモア精神などがぴったり会う、最高の親友で家族だ。
ぼくのニューヨーク・トリオの大事な相棒だが、彼は独自のプロジェクトでも活動しており、そのなかにはドラムソロでのパフォーマンスもある。
一度、その魅力に触れてみてください。ヤミツキ間違いなしです
山下洋輔
It has been thirty years since I came to know Pheeroan AkLaff. 

He is my best friend and a family member; his musicality, his personality, and his sense of humor all fit perfectly with mine.

He is a very important part of my New York Trio, as well as being very active in his own project, with his solo drum performances.

Please take a moment to experience the charm of his music.

You certainly will be hooked.


Yosuke Yamashita
Friday August 4th 
Jazz Spot Dolphy Tel.045 261-4542
info@dolphy-jazzspot.com
横浜市中区宮川町2-17-4 第一西村ビル2Fお問合わせ・ライブ予約 -
Tel. 045261-4542 (問合せ) info@dolphy-jazzspot.com
(ライブ予約) reserveseats@dolphy-jazzspot.com
Saturday August 5th
Salon Kamoshita  サロン・ド・カモシタ 
Tel.042 361-2637
Address : 2 Chome 12-11 Honshukucho, Fuchu, Tokyo
AUGUST 6th
Shimamura Gakki AEON MALL OKAZAKI
adress
〒444-0840
愛知県岡崎市 戸崎町字外山38-5 イオンモール岡崎3F
Aichi-Prefectures, Okazaki-CIty, Tosaki-cho, Sotoyama 38-5, AEON MALL OKAZAKI 3F
TEL: 0564-59-1077
http://www.shimamura.co.jp/okazaki/index.php?special=map
August 7th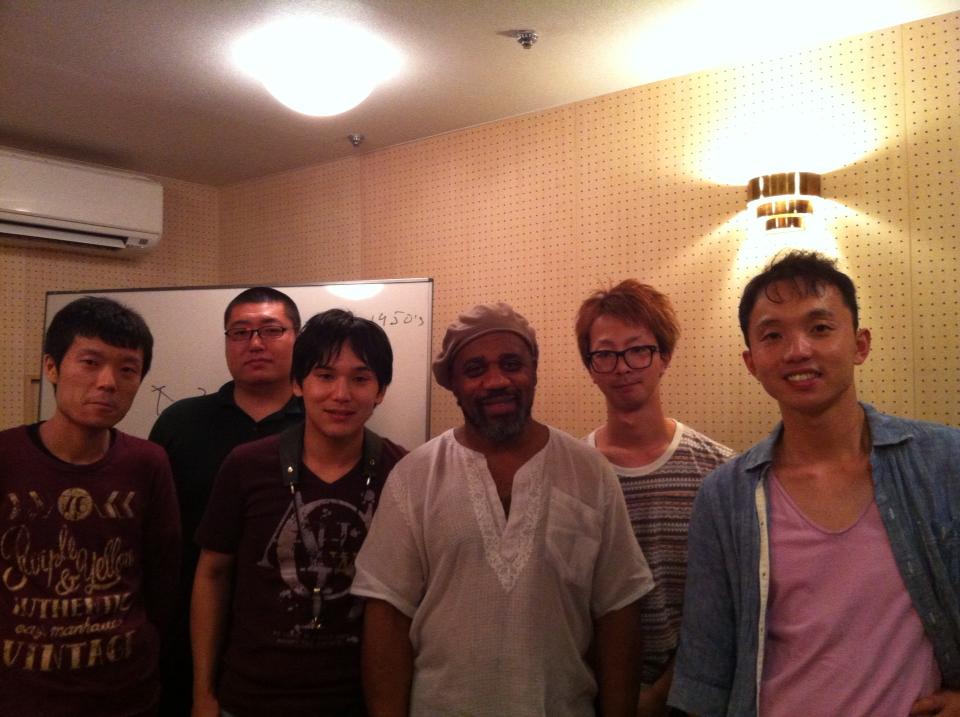 On August 7th Mr. akLaff will perform a rare duo performance with shakuhachi master Mikan Nitta in Tsu City, Mie prefecture.

Print Articles on Pheeroan akLaff
Musica Jazz (Italy) Giuseppi Segala intyerview Spring 2013
Musicworks (Canada) Stuart Broomer interview January 2013
Slagwerk Magazine (Holland) Hugo Pinksterboer interview January 2012
Jazz Magazine (Spain) Jorge Lopez Gereñu interview Autumn 2010
Hot House Magazine cover article by Paul Blair April 2004
Coda Magazine (Canada) cover article by Jerry D'Souza July/August 1997
Signature Magazine Japan, Dr. Tekemura interview April 1996
The Sydney Morning Herald, Peter Jordan interview, January 1996
Modern Drummer, Noah Howard interview 12/95,
Drums Magazine Japan, Interview 1991
Marie Claire Japan, CD review 1990, Jazz Podium, Germany 1989
Musician Magazine Ted Drozdowski interview June 1989
RYTMI Magazine Finland #9-10 interview November1987
Modern Drummer, Chip Stern interview May 1984
Midday Times Bombay, India interview January 1984
Coda Magazine (Canada) #186 interview January 1982
Ivoire Dimanche Magazine Ivory Coast#537 J.S. Bakiono interview June 1981
Ophelia Magazine Nigeria Volume 2 Frank Fairfax interview January 1981

Music Supervision and Film Scoring
Mostro Turchino - by Carlo Gozzi - Directed by Karin Coonrod Compangnia Colombari - 2023 Venice Biennial
Hewitt Collection of African American Art, a documentary by Charles Martin, 2008
Hats by Bunn, a documentary by Charles Martin, 2007
Ed Clark: A Brush With Success, a documentary by Charles Martin 2006
Sweet Samoa by Tomas Casas 2003

Artistic Appointments and Mentoring
Artist Residency, Par Do Tu, Warsaw Poland, February 2013
Artist Residency, Javierna University, Bogota Colombia, July 2012
Artist Residency, Tufts University, April 2010

Awards
New York Foundation for the Arts - 2000
New Music USA 2018

Publications
Jazz and Spirituality; published by MyUni - Austria, 2010
House of Friends: Temperance 2018
Manuscripts
A View From Thrones; Interviewing Jazz Impresarios of Japan
Sticks and Stones - reflections, faction, and prose - in production