Seed Artists' Chats - William Parker

Rhythm Adaption drum-set lessons with Pheeroan akLaff personalizes the fitness of concentration and gleans historical records of drumming worldwide. 
Music and Health
 See these papers by :
Dr. Julian F. Thayer on Music and Emotions and by 
 Dr. Psyche Loui Improvisation as a Model
 It has been an honor to assist them in their research. 
As I have over 600 personal stories and accounts of learning processes from my 27 years of teaching private lessons.  Some of them have been remarkable enough to remember and important enough to share. Here are two with uniquely noteworthy outcomes. 
Two memorable breakthrough moments for a drum-set student. The names are fictional for anonymity.
Georgette and cross-referenced coordination: I once had an adult student who heard me in performance and approached me with a request for lessons. At the time she maintained a career as an executive at a well-known women's apparel company. Her enthusiasm was fueled by the fact that her mother had an early onset of Alzheimer's condition. She was intent on using some kind of preventative method to fortify her mental activity with complex motor skills. She had been a semi-professional ice skater and imagined that there was similar coordination used in playing the American drum-set. So it was. Georgette took weekly drum-set lessons with me for approximately one year and gained remarkable skills. She adapted quickly to both reading and executing drum-set patterns, to reach a level that instilled buoyant confidence and musicality.  I believe her ice skating ability was a factor, in her progress. A kind of re-adaptation to get brain and muscle to flow. I can bet on her ability to easily recall this information by refreshing her study or even joining an impromptu recreational music activity.
Kohe and the 8am lesson:  I often tell this story to students who imagine that early morning is anytime before 10am.
Kohe came to me late in the semester's audition process. He was a complete beginner. My schedule was full, though I do not always put more experienced students before beginners.
I asked him if he could see himself making it to class at 8 am. He agreed. We began promptly on most of our Tuesdays right at 8 am. In my years of teaching, I have occasionally come across a pupil who struggles to retain the information learned in class and gradually advances in the subsequent lessons. This did not seem to be the case with Kohe. Each lesson took a toll on both of us. If there was any progress during the lesson or in his practice time that followed that week, it surely did not stick enough for him to display any results. This went on for twelve weeks. In the mid-term period, I had begun to wonder if this early meeting time was a mistake. I also began to question whether it was my teaching methods or his individual capacity for memory. In our final meeting of the semester, Kohe did something that I had never seen, and have not seen since. He regurgitated every one of the fundamental four-part patterns in his repertoire. He played these apparently locked up bits of complex information with ease. He not only shocked me, but visibly shocked himself, as he bandied about effortlessly on the drum-set with a grin that I can still see in my mind's eye today. 
A Strong Vibration by Jake Nussbaum
An interview conducted by one of my advanced former students: http://destination-out.com/?p=5046
Pheeroan akLaff believes that the arts are a way to give thanks and to work for change. He is a musician who has kept New York vibrant with live music for over thirty years. His personal style of drumming with adventuresome composers began as a young artist touring countries of Africa Asia and Europe. His associations with Wadada Leo Smith, Oliver Lake, Anthony Davis, Henry Threadgill, Sonny Sharrock, and eventually Yamashita Yosuke, Liu Sola Henry Brant, and Andrew Hill presented him with opportunities to perform and record a volume of rare work. 
 
FRIENDS AND STUDENTS OF JAPAN
フェローン・アクラフとは30年の付き合いだが、音楽性、人柄、ユーモア精神などがぴったり会う、最高の親友で家族だ。
ぼくのニューヨーク・トリオの大事な相棒だが、彼は独自のプロジェクトでも活動しており、そのなかにはドラムソロでのパフォーマンスもある。
一度、その魅力に触れてみてください。ヤミツキ間違いなしです
山下洋輔
It has been thirty years since I came to know Pheeroan AkLaff. 

He is my best friend and a family member; his musicality, his personality, and his sense of humor all fit perfectly with mine.

He is a very important part of my New York Trio, as well as being very active in his own project, with his solo drum performances.

Please take a moment to experience the charm of his music.

You certainly will be hooked.


Yosuke Yamashita
Friday August 4th 
Jazz Spot Dolphy Tel.045 261-4542
info@dolphy-jazzspot.com
横浜市中区宮川町2-17-4 第一西村ビル2Fお問合わせ・ライブ予約 -
Tel. 045261-4542 (問合せ) info@dolphy-jazzspot.com
(ライブ予約) reserveseats@dolphy-jazzspot.com
Saturday August 5th
Salon Kamoshita  サロン・ド・カモシタ 
Tel.042 361-2637
Address : 2 Chome 12-11 Honshukucho, Fuchu, Tokyo
AUGUST 6th
Shimamura Gakki AEON MALL OKAZAKI
adress
〒444-0840
愛知県岡崎市 戸崎町字外山38-5 イオンモール岡崎3F
Aichi-Prefectures, Okazaki-CIty, Tosaki-cho, Sotoyama 38-5, AEON MALL OKAZAKI 3F
TEL: 0564-59-1077
http://www.shimamura.co.jp/okazaki/index.php?special=map
August 7th
On August 6th  workshop at the Shimamura Music shop in the Parco Center of Okazaki.  This forum is organized by Masayasu Amano ( photo below) and several Jazz students of Nagoya, for discovery in music, creativity, health, and to encourage music making at all levels.
Rhythm All Around Us 
リズムオールアラウンドアス は ミュージシャンでも、それ以外の方でも、全ての方の為に、フェローンアクラフ流のリズムに順応する方法を用いていきます。
参加者は、グループと調和した動きに気付くため、リスニングやアクションを通じて体への意識を高めます。
それはリズム感の感受性を高めるための探求方法で、我々の呼吸、鼓動、コミュニケーションスキルや環境にも結びつきます。
Master Class (for experienced drummer) (60min)  
マスタークラス 
キレのあるグルーヴのための強弱の選択と着眼点。
アメリカンドラムセットでのジャズパターンのフレーズとバリエーション
ルーディメンツの物理的重要性と姿勢について
音楽的なドラムソロの作り方
変拍子の曲及び譜面へのアプローチ
 Q&A.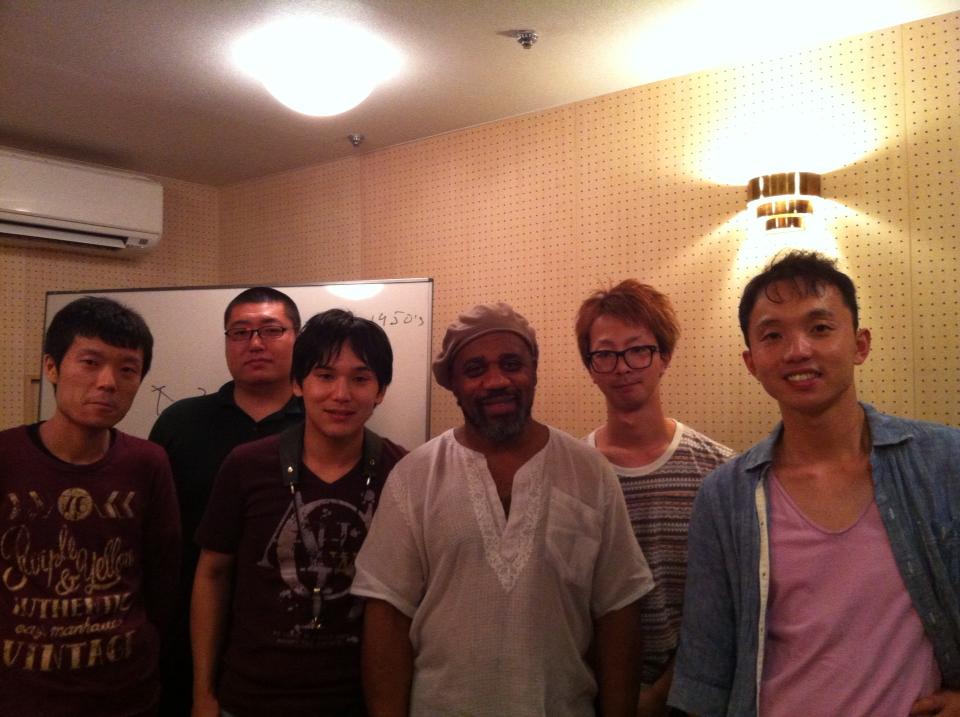 On August 7th Mr. akLaff will perform a rare duo performance with shakuhachi master Mikan Nitta in Tsu City, Mie prefecture.

Print Articles on Pheeroan akLaff
Musica Jazz (Italy) Giuseppi Segala intyerview Spring 2013
Musicworks (Canada) Stuart Broomer interview January 2013
Slagwerk Magazine (Holland) Hugo Pinksterboer interview January 2012
Jazz Magazine (Spain) Jorge Lopez Gereñu interview Autumn 2010
Hot House Magazine cover article by Paul Blair April 2004
Coda Magazine (Canada) cover article by Jerry D'Souza July/August 1997
Signature Magazine Japan, Dr. Tekemura interview April 1996
The Sydney Morning Herald, Peter Jordan interview, January 1996
Modern Drummer, Noah Howard interview 12/95,
Drums Magazine Japan, Interview 1991
Marie Claire Japan, CD review 1990,Jazz Podium, Germany 1989
Musician Magazine Ted Drozdowski interview June 1989
RYTMI Magazine Finland #9-10 interview November1987
Modern Drummer, Chip Stern interview May 1984
Midday Times Bombay, India interview January 1984
Coda Magazine (Canada) #186 interview January 1982
Ivoire Dimanche Magazine Ivory Coast#537 J.S. Bakiono interview June 1981
Ophelia Magazine Nigeria Volume 2 Frank Fairfax interview January 1981

Music Supervision and Film Scoring
Hewitt Collection of African American Art, documentary by Charles Martin, 2008
Hats by Bunn, documentary by Charles Martin, 2007
Ed Clark: A Brush With Success, documentary by Charles Martin 2006
Sweet Samoa by Tomas Casas 2003

Artistic Appointments and Mentoring
Artist Residency, Par Do Tu, Warsaw Poland, February 2013
Artist Residency,Javierna University, Bogota Colombia, July 2012
Artist Residency, Tufts University, April 2010

Awards
New York Foundation for the Arts - 2000

Publications
Jazz and Spirituality; published by MyUni - Austria, 2010

Manuscripts
A View From Thrones; Exploring Jazz impresarios of Japan
Rhythm and Stasis; a drum-set method manual